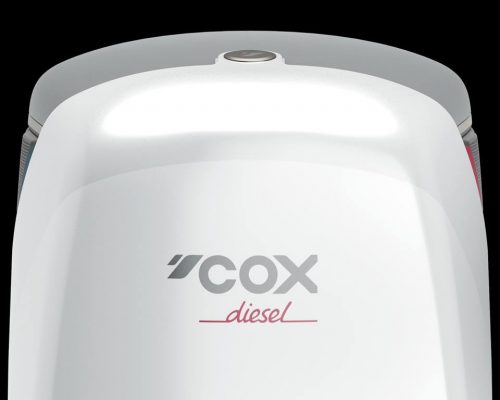 THE REVOLUTION BEGINS
Combining power and torque of a diesel engine with the advantages of an outboard, Cox redefines the concept of marine propulsion. With the support of the UK Ministry of Defence and significant long-term private investments, Cox Powertrain developed in the last ten years as a recognised and innovative brand of diesel outboard engines. With a workforce of 71 people, including a team of combined development engineering made of 62 people, the company goes on innovating for the future.
In 2007, David Cox, a car race engineer, founded Cox Powertrain, with the aim of developing light diesel engines by using the F1 technology. The first model was designed in 2010, but the company had a strong upthrust when Tim Routsis became CEO. A series of demonstrative shows regarding CXO300 recently started worldwide, so as landmark validation programs with the US Navy and the US Coast Guard. 
In line with the British tradition of advanced marine engineering, Cox's production was developed to reach high international levels of performance and quality. Using cutting-edge equipment and innovative softwares, Cox's standards matches those of consolidated cars manufacturers. This assures to each engines a very high-level of performance. 
If from one side CXO300's sturdy design and engineering minimise possibility of issues, on the other hand users are reassured by the fact that Cox offers an unrivalled after sale support and a longer warranty. This minimises downtimes and reduces the loss of profits for sales operators. As regards general maintenance, CXO300 was designed for 1000h dry service internals with all oil and filter changes able to be carried out with the engine in the water, therefore reducing the necessity to take the engine out of the water every 100h as with current gasoline outboards. 
Each distributor has been selected for its reputable standing within the marine industry, both for professional and recreational users. In Italy, Cartello Srl.